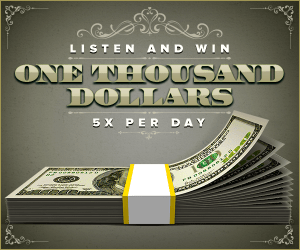 Alpha Media is giving away one thousand dollars, five times every weekday from September 12th through October 13th. Listen daily at 7, 9, 1, 3 and 5 for the keyword. When you hear it, you'll have an hour to text the word to six, seven, seven, six, zero. One winner is drawn randomly from all entries received. A total of $120,000 will be given away.
This is an Alpha Media Contest with participation from select Alpha Media stations and other broadcast company radio stations. For each opportunity to win, one winner will be randomly selected from all entries received nationwide. This is a texting contest and you must be at least 18 years of age to participate. Standard text and data rates apply.
For complete rules click here.