Festus and DeSoto Legion Game Gets Called in the 4th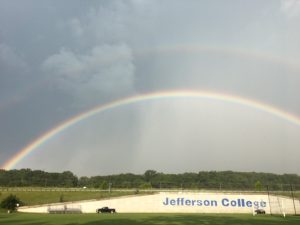 (HILLSBORO) The District 13 American Legion baseball affair Tuesday night between Festus Post 253 and DeSoto SMCI ended prematurely in the 4th inning due to lightning and heavy rain at Jefferson College.
Festus was leading DeSoto 1-0 in the bottom of the 4th after an RBI single from Jake Leitner in the top of the 1st.

DeSoto was batting in the bottom of the 4th with two runners in scoring position, two outs, and Landon Swallow at the plate when the lightning and rain forced the game to be called. As of now, a make-up date has yet to be determined. Post 253's District 13 record remains at 6-1 and DeSoto SMCI's remains at 6-5.
Festus is scheduled to play a District 13 doubleheader Thursday at Potosi beginning at 6 p.m. DeSoto has Washington Post 218 on the docket Wednesday afternoon at 1:30 and then will be in Blue Springs through Friday after that.
Full Game Audio (*Called in the 4th)