APR 17, 2017 ARCADIA VALLEY AND BISMARCK READY TO BATTLE ON THE DIAMOND (Audio)
April 17, 2017 4:25PM CDT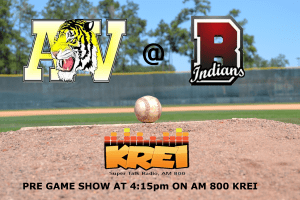 (Bismarck) A pair of MAAA small school teams face off tomorrow afternoon on AM 800 KREI when the Arcadia Valley Tigers visit the Bismark Indians.
The Tigers enter the game with a record of 7-4 and having won 5 of their last 6 games. Arcadia Valley head coach John Inman says the recent turnaround has been due to things falling together for them.

The Tigers play Bismark twice this week and coach Inman breaks down the matchup.

Bismarck enters play with a 9-2 record and outscoring their opponents 135-24 in those 11 contests. 2nd year head coach Abe Warren continues to witness an explosive offense day in and day out.

Trying to slow down the likes of AV's Jake Pryor and Isaiah Gibbs will be up to Indians starting pitcher Hunter Drake.

Arcadia Valley and Bismarck set for a 4:30 start with a 4:15 pregame show tomorrow afternoon on AM 800 KREI.
---