APR 25, 2017 VALLE CATHOLIC CLAIMS 3RD PLACE IN MAAA CONFERENCE SOFTBALL TOURNAMENT (Audio)
April 25, 2017 11:05PM CDT
(myMOinfoSports) The Valle Catholic Warriors softball squad claimed third place in the MAAA Conference tournament with a convincing 16-1 victory over Arcadia Valley on AM 800 KREI.
After a five run first inning for the Warriors where Hannah Wood delivered a two run single to left field, Valle Catholic kept adding to the lead in the second.

Before the end of the second inning, Peyton Basler decided to speak up.

Valle Catholic was in complete charge of the game up 13-1 in the third inning when Warriors second baseman Anna Fallert piled on.

Olivia Meyer pushed the lead up to 16-1 with an infield chopper to third base activating the fifteen run mercy rule and claiming third place in the MAAA Conference tournament for the Warriors. Head coach Kurt Basler said he told his team to be aggressive on offense.

Valle Catholic improves its record to 10-7 after the win and will prepare to face Grandview on Thursday.
FULL POST GAME INTERVIEW WITH VALLE CATHOLIC HC KURT BASLER:

FULL GAME AUDIO: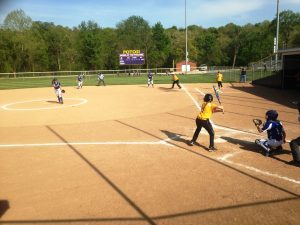 ---