APRIL 25TH, 2017 JEFFERSON BLUE JAYS STAY HOT, WIN SIXTH IN A ROW AND STAY UNBEATEN IN CONFERENCE WITH WIN OVER CRYSTAL CITY (Audio)
April 25, 2017 7:44PM CDT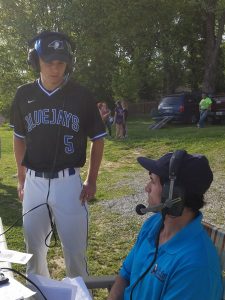 (CRYSTAL CITY, Mo.) The Jefferson Blue Jays kept up their hot play Tuesday afternoon with a 14-4 victory over conference rival Crystal City to pick up their sixth win in a row.
Jefferson (8-6, 3-0) got things started with an RBI groundout from sophomore Andrew Graves in the first inning. They then scored two more off Crystal City (1-13, 0-3) starter Colin Wilkerson in the second inning thanks to the first of three RBI singles from senior Gunnison Heine. The third inning saw the Blue Jays erupt for seven runs capped off by this three run double from Graves…
+++
+++
Graves finished 1-4 with a stolen base and three RBIs. Jefferson added four more runs in the fourth inning that saw the third RBI single of the day for Heine…
+++
+++
Heine finished 3-3 with three RBIs and three runs scored on the afternoon. Heine hits in the nine spot in the order and is hitting above .300 on the year. For Heine, he has gotten comfortable in that spot in the order…
+++
+++
Senior Blaine Prater got the start on the mound for Jefferson tossing three scoreless innings allowing just one hit, and striking out three hitters along the way to pick up the victory. He also ended the Jefferson scoring with this two run triple in the fourth…
+++
+++
Prater finished 1-3 at the plate with two runs scored and two RBIs. Second baseman Jaden Courtois went 2-3 with two RBIs and two runs scored and a stolen base. The Hornets didn't go down without a fight though, as they scored two runs in the fourth inning and got their fourth run of the game in the fifth inning off the bat of junior Chris Eisenbeis…
+++
+++
Eisenbeis finished 2-3 with two doubles and an RBI in the loss. Wilkerson takes the loss on the mound throwing 2 2/3 innings allowing ten runs in the process.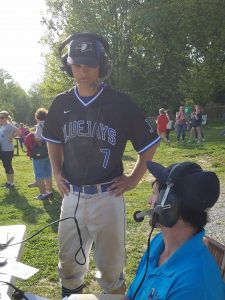 +++
For Jefferson, they are riding a hot streak with their sixth win in a row and remain unbeaten in conference play with a record of 3-0. Prater said the team has found their groove…
+++
+++
Head coach Robert Kuehnle was happy to come away with another conference victory…
+++
+++
Crystal City head coach Ricardo Pastrana was proud of the way his team fought back in the last couple innings…
+++
+++
Kuehnle added the team needs to stay on task as they hit the final stretch of the regular season…
+++
+++
Jefferson is next in action against Hancock on Wednesday afternoon while Crystal City will take on Grandview on Thursday in a conference match-up.
---