DeSoto's Jaycee Foeller Talks About Becoming the First-Ever Female Wrestling State Champion
February 25, 2019 6:53PM CST
(DESOTO) DeSoto wrestler Jaycee Foeller is Missouri's first-ever female state champion of the 167-pound weight class after going 3-0 at Mizzou Arena in Columbia last week.
Jaycee defeated Josette Partney of Lafayette by Fall at the twelve-second mark of the 2nd period to win the title. Jaycee talks about the moment on the mat when she realized that she was going to beat Josette.

Jaycee describes the moment she got the pin she was looking for as Josette kept trying to get out of bounds.

Jaycee remained poised during the post-match recognition of her state championship and once she got away from the spotlight, she had her freak-out moment.

Jaycee Foeller is just a sophomore and already a wrestling state champion, finishing the 2018-19 season at 35-0.
Full Jaycee Foeller Interview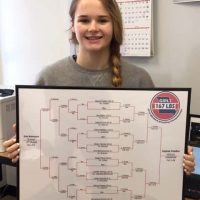 ---