DeSoto's Trevor Johnson Recaps Freshman Track Season at Drury University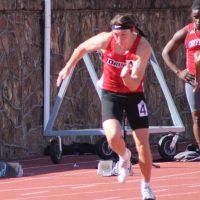 (DESOTO) 2018 DeSoto graduate and Drury University track athlete Trevor Johnson recently wrapped up his freshman season for the Panthers.
Johnson took part in the indoor track season, getting the chance to run the 60-meter and 200-meter dashes and the 4-by-400 relays. During the Central Missouri Classic in February, Johnson and his relay team finished in 1st place with a time of 3 minutes and 31.8 seconds.

Johnson's quickest 60-meter dash time was 7.11 seconds and his fastest 200-meter time was 23.03 seconds.
During the outdoor track and field season, Johnson suffered a hamstring injury after the first meet and couldn't run anymore. So later in the season in April, he was asked to participate in the shot put event at the David Suenram Gorilla Classic in Pittsburgh, Kansas. Johnson says that he had never done shot put before, so the experience was quite strange.

Despite the injury, Johnson says he had fun during his freshman season at Drury and really enjoyed the freedom of it all. With that in mind, Johnson gives his best recruiting pitch for track and field athletes back home that are interested in furthering their careers in college.

Trevor Johnson will begin his sophomore track season at Drury University in December.
Full Interview
---