Farmington Beats Winfield and Loses to Festus in the Farmington Wood Bat Tournament
April 26, 2019 10:25PM CDT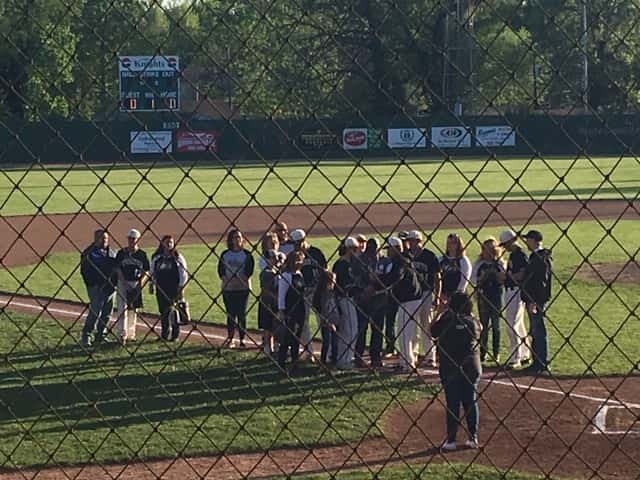 (FARMINGTON) The Farmington Wood Bat Tournament began Friday afternoon and Farmington took home a 5-2 victory in Game 1 over Winfield, but fell to Festus in Game 2, 4-3.
In game one on KREI, Winfield jumped out to an early 2-0 lead before Farmington responded in the bottom of the 4th. After the Knights' first run came across on a wild pitch, Owen Tripp strode to the plate with one out and a runner on third.

Tripp then stole third base and Tyler Hampton lifted a ball into right field.

The Knights tacked on a pair of runs late in the game and got a strong showing from Zach Grimes in relief to shut the door.
In game 2, the Festus Tigers knocked off the Farmington Knights, 4-3, on KJFF and KREI. A wild pitch put the Knights up 1-0 in the top of the 3rd, but the Tigers responded with a 2-spot in the bottom half thanks to Collin Reando.

Farmington then evened it up in the top of the 4th behind a fly ball from Zach Grimes.

In the bottom of the 4th, the other Reando, Ryan Reando, came through for the Tigers.

The score remained 3-2 Festus until the top of the 7th inning when Farmington tied it up after being down to its final strike.

Eddie Martin's chance for redemption though would come in the bottom of the 7th inning with the game on the line and the bases loaded.

The win for the Tigers bumps their record up to 5-10. The loss for the Knights drops them to 7-12. Festus will play twice on Saturday in the Farmington Wood Bat tournament with games against Winfield at 10 a.m. and Pattonville at 12:30 p.m. Farmington has one more game and it's against Pattonville at 3 p.m.
Game 1 Audio

Game 2 Audio
---