Festus' Chris Partney is the Boy's Track and Field Coach of the Year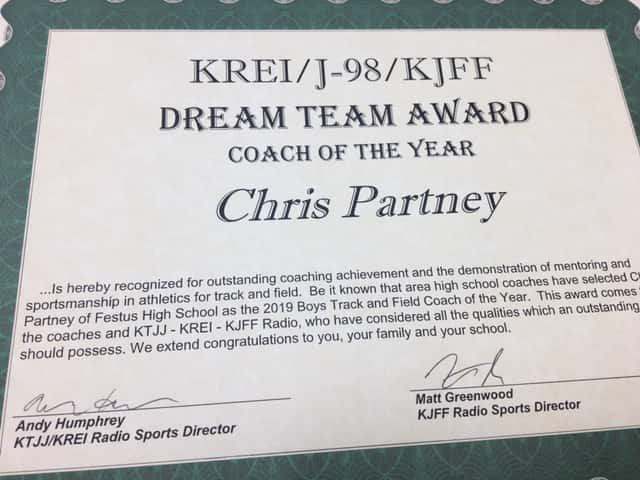 (FESTUS) The 2019 Regional Radio Spring Dream Team Coach of the Year in boy's track and field is Chris Partney of Festus.
This marks the 4th time Partney has won the award. Partney led the Tigers to a 2nd place finish at the Class 4 state meet, their highest finish in Class 4 since taking 6th in 2015. Coach Partney is once again thankful to the area coaches that voted for him to receive this award but knows that he didn't get this honor alone.

With one of the greatest athletes Festus and possibly Jefferson County has ever seen in Max McDaniel, Coach Partney feels even more blessed to be in the position he's in.

Other outstanding athletes that Coach of the Year Chris Partney has said he's been thankful to lead include seniors Alec Whitener, Jacob Pauly and Jaylan Watson.
Whitener was All-State in the 16-hundred and 32-hundred meters this season; Pauly All-State in the 110 and 300-meter hurdles this season as well; and Watson, All-State in the long jump last year and this year. A couple of All-State finishers that will be returning to Festus under Coach Partney are Austin Coale and Austin Anderson, who are also members of the Festus football team.
Tune into AM 1400 KJFF Sports Talk Thursday afternoon at 4:15 to hear the full Chris Partney interview.
---