Festus Softball Snatches Home Victory Away from DeSoto, Beating Dragons 11-6
September 17, 2019 8:36PM CDT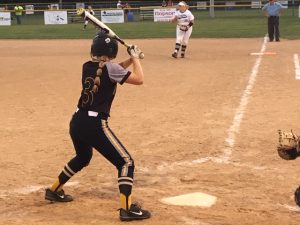 (DESOTO) The Festus softball Tigers snagged an 11-6 road victory over Jefferson County Conference rival DeSoto on Tuesday on AM 1400 KJFF.
The Tigers pounced on Dragons pitching in the top of the 1st with 8 runs scored on 7 hits, including this double on Abby Rickermann's 2nd at-bat of the inning.

The Tigers closed out the inning with an RBI-groundout from McKenzie McJunkins. DeSoto made a valiant effort in the middle frames as Kaitlyn Hannah got a hold of one.

The Tigers eventually stretched their lead back out to 11-4 and all DeSoto could answer back with was a two-run single by Maddie Young. The Applebee's of Farmington Player of the Game was 5'2″ Festus freshman right-fielder Anna Arman who came up big both offensively and defensively.

Tigers head coach Jeff Montgomery loved that Anna was able to contribute.

Festus improves to 2-1 in the Jefferson County Conference standings and 7-7 overall as DeSoto falls to 4-10 overall and 1-1 in the conference. Festus will rest up and play again on Thursday at Herculaneum. DeSoto is back in action Wednesday afternoon at home against Seckman at 4:30.
DeSoto HC Chris Woelich

Festus HC Jeff Montgomery

Full Game Audio
---