Fredericktown Boys Basketball Claws Past Kingston Cougars in New Gym
December 4, 2017 11:33PM CST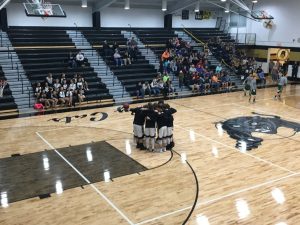 (FREDERICKTOWN) The Fredricktown Blackcats break in the new gym floor with a squeaky-clean 49-41 victory over the visiting Kingston Cougars tonight on J-98.
Fredricktown's Logan Winkelman shined for the Blackcats with a team-high and game-high 18 points. The defense was outstanding and fueled the engine for the Blackcats.

Kingston tried to rally back from a 19-point deficit in the second half, going on a big run to start the 3rd.

Winkelman put the game in the books for Fredericktown with this drive to the hole.

Fredericktown head coach Joaby Sikes said he was thrilled with how his bench played.

The Blackcats improve to 2-2 on the young season and invite Herculaneum into town on Thursday. Kingston falls to 1-3 and travel to Jefferson for Thursday as well.
Fredericktown Post-Game Interview: Joaby Sikes

Kingston Post-Game Interview: Paul Hamilton

Full Game Audio
---