Herculaneum's 1999 Baseball State Championship Team Celebrated, but 2019 Blackcats Fall to Jefferson
April 16, 2019 9:16PM CDT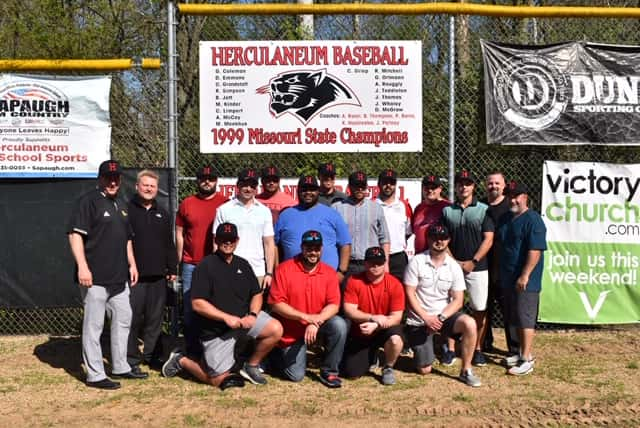 (HERCULANEUM) On a night where Herculaneum's 1999 Class 3 State Championship baseball team was honored at Andy Runzi Field in Herculaneum, the Blackcats fell short in a 2-1 affair to the Jefferson Blue Jays on KJFF.
The first run of the game belonged to the Blue Jays in the top of the 1st inning as Andrew Graves scored from third on a ground ball to short. Then the Blue Jays extended their lead to 2-0 in the top of the 3rd on a quirky play.

The Blackcats cut into the two-run deficit in the bottom of the 4th.

In that same inning came a defensive gem from Blue Jays outfielder Graves, the Patsy's Furniture Play of the Game.

Jefferson's Levi Ebersoldt shutout the Blackcats the rest of the game, picking up his 6th win of the season behind 7 strikeouts and earning the Applebee's of Farmington Player of the Game honor.
Blue Jays head coach Robert Kuehnle says that Ebersoldt continues to handle the big moments well.

The Blue Jays improve to 13-3 overall and 2-0 in the Jefferson County Small Schools Conference standings. The Blackcats fall to 5-7-1 overall and 2-2 in the conference. Jefferson will play Crystal City next Tuesday and Herculaneum will be at Brentwood on Thursday.
Full Game Audio
---