Hillsboro, Festus, and Fox Football Head Coaches Spread Word on Caleb Scanlon Fundraiser at Festus Pasta House
February 18, 2019 6:15PM CST
(HILLSBORO) The Festus, Hillsboro, and Fox football programs are teaming up with the Festus Pasta House to raise money for Caleb Scanlon and his family.
Caleb is a 6th grade Hillsboro student and youth footballer who was recently diagnosed with Stage 4 cancer. We had Tigers head coach Russ Schmidt, Fox football head coach Brent Tinker, and Hillsboro football head coach Lee Freeman join us for KJFF Sports Talk on Monday.
Coach Schmidt said that when the three of them posted the Caleb Scanlon flyer on Facebook to promote the Festus Pasta House fundraiser, the response was enormous.

Brent Tinker chimed in to relate his experiences to the Scanlon situation and why it was important that the Fox community get involved.

Coach Tinker also knows Caleb's father, Jeff, through his brother. Hillsboro coach Lee Freeman submitted a recent picture to us of Caleb during this whole process, and Caleb is just smiling away.

To help the Caleb Scanlon family, the Festus Pasta House will donate 10-percent of any food purchase, dine-in or carry out, on Wednesday from 11 a.m. until 10 p.m. There will also be a silent auction, which Coach Schmidt has a list of items for.

For more details on the "Support Caleb" fundraiser at the Festus Pasta House, click here. It's also an opportunity to hear from the coaches more about Caleb, his family, and the fight against childhood cancer. There is also a picture of Caleb that coach Freeman talked about. Caleb will begin radiation chemotherapy next week.
Full Schmidt, Tinker, Freeman Interview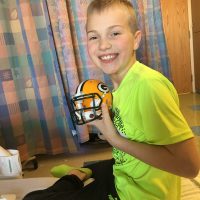 ---