Hillsboro Soccer Wins 2nd District Title in 4 Years Behind Moore Goal
November 7, 2019 9:43PM CST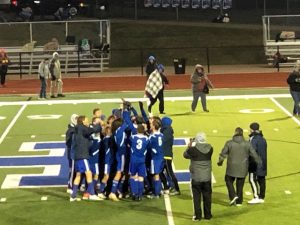 (HILLSBORO) The Hillsboro Hawks are once again kings of Class 3 District 2, taking back the crown from the Windsor Owls after a 1-0 win tonight on AM 1400 KJFF.
Mark Moore collected his 34th goal of the season and 9th game-winning goal about 10 minutes into the 2nd half.

The Owls had a few chances on goal in the 2nd half but none of them stuck. Here are the final moments of the match.

Moore was happy to prevent the Owls from winning a 3rd consecutive district title and not feel the sting of defeat again.

Hawks Head Coach Chris Schacht was proud of the approach his guys took in getting the win.

Hillsboro improves to 18-5-1 and advances to Sectionals while Windsor's season comes to an end at 6-18. The Class 3 Sectional round will be Tuesday night in Bonne Terre as the Hawks take on the North County Raiders at 6 on KJFF.
Mark Moore Interview

Chris Schacht Interview

Full Game Audio
---