Hillsboro Three-Peats as District Champions After Knocking Off Lutheran South 68-53 Friday Night
March 2, 2019 12:14AM CST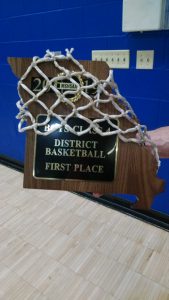 (HILLSBORO) The Hillsboro Hawks are Class 4, District 3 champs after holding off Lutheran South at home, 68-53, in boys hoops Friday night on KJFF. With the score 40-40 after 3, the Gilster Mary Lee Play of the Game put the Hawks ahead for good.

That put Hillsboro up 42-40 and then it was just big play after big play, including this series of solid offense and good defense from junior Mark Moore.

Then came the proverbial nail in the coffin from senior Michael Brewer just a short time afterward.

Brewer went on to score 20 points while teammates Mark Moore and Evan Worley put up 18 and 15, respectively. Hawks head coach Dan Johnson addressed the Evan Worley play and how much of a big moment it was for Worley and the team.

Hillsboro improves to 23-4 after clinching its third consecutive district title. The Hawks will face St. Mary's in the Class 4 Sectionals on Tuesday at Kirkwood High School. You can listen to the game on AM 1400 KJFF with tip-off slated for 6 p.m. and the Flieg's Equipment Pregame Show at 5:45.
Full Dan Johnson Interview

Full Game Audio
---