J-98 Trading Post 7-16-18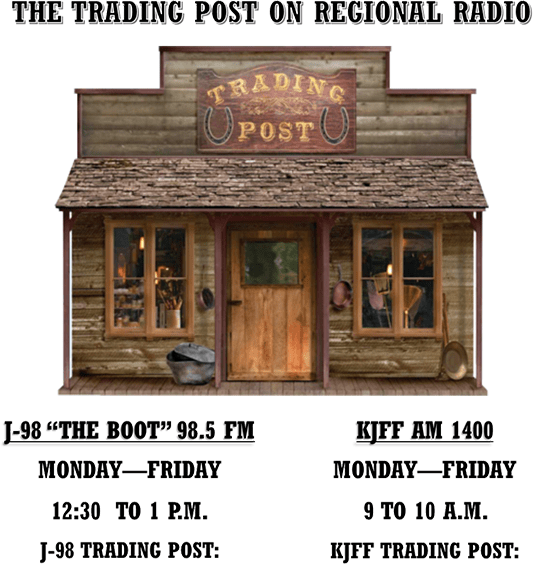 TRADING POST CLASSIFIED ADS
July 13, 2018
***TRADING POST #'S 756-6000 AND 1/800-842-2330***
***KJFF TRADING POST AM 1400 9:05 AM TI 10AM. 636-937-5005***
*************************************************************
PLEASE REMEMBER TO BE BRIEF AND LIMIT YOUR CALLS TO 3 TIMES A WEEK
THE TRADING POST, BROUGHT TO YOU BY PATSY'S FURNITURE IN PARK HILLS…YOU'LL LOVE TO SHOP AT PATSY'S. PATSY'S FURNITURE OFF ST. JOE DRIVE IN PARK HILLS.
TRADING POST IS ALSO BROUGHT TO YOU BY HOME POOLS & SPAS. WHEN IT COMES TO FAMILY FUN, THERE IS NO PLACE LIKE HOME IN LEADINGTON.
Quality Appliances Llc, On North Allen St. In Bonne Terre Sells Fully Tested, Re-Conditioned And Meticulously Cleaned Pre-Owned Washers, Dryers, Ranges, And Refrigerators, All With A 30 Day Warranty. They Buy, Sell, And Trade Used Appliances. Call 573-358-5900 Or Visit Www.Qualityappliances.Net. Open 9-5 Weekdays And 9-12 Saturday.
BONNE TERRE ANTIQUES AND UPHOLSTERY DOES CUSTOM WORK ON ALL TYPES OF FURNITURE. THEY DO STRIPPING, REFINISHING, REGLUEING AND FOAM REPLACEMENT ON CUSHIONS. LARGE SELECTION OF UPHOLSTRY FABRIC IN STOCK. OPEN WED. THRU SAT. 9 TO 4:30 LOCATED IN THE SAME PLACE FOR 39 YEARS ON HWY 47 JUST 2 MILES WEST OF THE BONNE TERRE EXIT, 573-358-2235.
St. Lawrence's Annual Picnic Sunday July 22, 2018 Featuring handmade quilts and other prizes! Booze Wagon and lottery raffle, live music, antique tractor display, fried chicken and kettle beef dinner. Adults eat for $10, children for $5. Stop by and check us out! Lawrenceton, MO I-55 to HWY Y at Bloomsdale.
Rock Bottom Shoes and More. Store closing, 25% off shoes, purses, tshirts and hats. Stop in now for a great selection and receive 35% off discounted prices. 408 E. Karsch Blvd.
Middleboork Auctin House: tools, antiques, new and used, collectables. Spaces go fast, limit 6 sellers. Every Friday 6pm. Just outside Ironton County Rd 32 watch for signs or turn next to Pilot Knob Water Tower. James & Brenda 573-854-2989
Repo Sale now at Graceland Buildings. Up to 25% off Stan Bennett RV/Boat Storage 901 State Highway 32 Bismarck, MO. Large savings on 19 units on site. Total of 30 new buildings on the lot. Limited time only, so hurry. Come on by for details. 573-315-9883 Stan 2573-631-1974 Carl.
Midwest Sports Center in Farmington-2013 Suzuki Blvd. C9OT Model B.O.S.S Blacked out 1462 cc4 stroke 2 cylinger electric start Value $13,999 Buy it now: $5,500 call 573-701-5471
From Patsy's Furniture in Park Hills: Eagle Glass Door Medium Oak Laywer Bookcase (Value $500) Buy it now $225
Lamp Per Coastal 2 door white/tan chest (APS-025) (Value $500) Buy it now $150
Steve Silver Zappa Table with 8 chairs and Silver Zappa Server (Value $2600) Buy it now $1000
Liberty Bay Pinte Entertainment TV Console (Value $1059.95) Buy it now $450.00 Call 573-701-5471
Stop by the station today to pick up discounted pit passes, now for just $20! Get them while supplies last!
J-98 Trading Post numbers for 7/16 /2018
(Area code is 573 unless noted)
636 586 8660
664 1230
3.915 8713
327 9068
314 403 9811
6.214 649 6458
7.366 1274
8.238 5755
9.218 9231
10.760-2684
210-6526
12.366 5711
13.636 586 4103
14.783 1905
15.305 0050
631 6067
17.314 803 3312
18.598 1037
19.314 337 0042
20.314 303 7857
---