Jefferson R-7 Pitcher Jacob Melton Signs with Mineral Area College
August 9, 2019 3:08PM CDT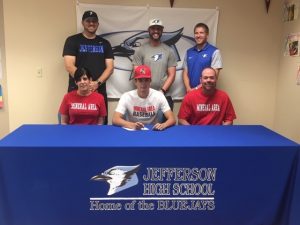 (FESTUS) Jefferson R-7 Blue Jay and Festus Post 253 pitcher Jacob Melton will be furthering his baseball career at Mineral Area College.
Melton put up solid numbers in his senior season with 38 innings, 60 strikeouts, and a 1.11 earned run average. A little while after Melton's senior season, conversations with MAC assistant coach Jordan Thompson began and it was Melton's pitching coach, Gene DeSalme, that helped get them started.

Melton sums up his time at Jefferson in just one word, "awesome."

Melton says that his parents and Coach DeSalme all played big roles in him becoming a better ballplayer and human being.

Jacob Melton will be playing baseball for a MAC Cardinals team that is led by Blake Jones and that finished last season at 32-17 in Region 16.
Full Jacob Melton Interview
---