Jefferson's Historic Season Comes to an End in the Class 3 Sectionals, Falling 52-37 to St. James
February 27, 2019 10:48PM CST
(HILLSBORO) The Jefferson boys basketball team had its season come to an end Wednesday night in the Class 3 Sectionals, falling to the St. James Tigers 52-37 at the Jefferson College Fieldhouse.
In a game heard on KJFF, the Blue Jays just couldn't buy a basket and they fell behind at the half 23-15. Behind junior guard Andrew Branson, the Tigers stretched their halftime lead to 13 by the end of the 3rd quarter.

Branson finished with a game-high 31 points. The closest the Blue Jays ever got in the 2nd half was pretty early on when Easton Null reduced the deficit to just four.

The most decorated boys basketball player in Jefferson's brief history, Easton Null finishes his career with 1,866 career points, including 561 in his final season.
Blue Jays head coach Sean Breeze talks about the emotional ending to the game when he took out all six seniors for one last standing ovation.

The other seniors for the Blue Jays are Erik Eisenbeis, Jacob Bridges, Cole Holdinghausen, Daniel McWhorter, and Collin Gosnell. Jefferson's season comes to an end with a 19-9 record, the most wins ever, and a district championship, the first ever. With the win, St. James is headed to the Class 3 Quarterfinals to face Charleston.
Full Sean Breeze Post

Full Game Audio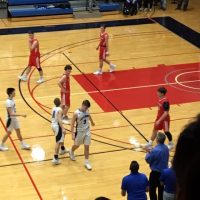 ---