Ryun Kasten Reacts to Being Inducted into the Herculaneum Sports Hall of Fame
September 5, 2019 7:03PM CDT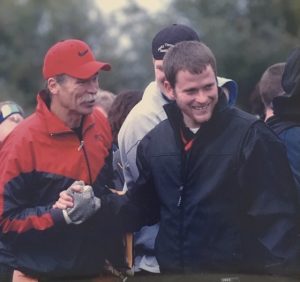 (HERCULANEUM) Herculaneum High School will be inducting Ryun Kasten into the Hall of Fame Friday night at the Herky home football game against Fredericktown on the MyMoInfo SportsStream. Kasten graduated from Herculaneum in 1997 and coached the cross country program to nine state titles while also producing over 30 All-State track athletes.
Kasten, who is currently the Athletic Director at Seckman High School, was wowed by the news.
Ryun also alluded to the fact that he gets to join his father, Jim Kasten, in the Herculaneum Hall of Fame.
The induction ceremony will take place before the Herky and Fredericktown football game tonight. There will be a banquet at the Herculaneum High School cafeteria on Saturday at 6 p.m. Tickets are $20 and to make a reservation, you can call Judy at the high school at 636-479-5200.
Also being inducted are Ronald Jarvis and Andrea Marie Politte.
Full Ryun and Jim Kasten Interview
---