Seckman's Stephanie Anthonies Comments on Being Parkland Health Mart Pharmacy Athlete of the Week
October 31, 2019 12:53PM CDT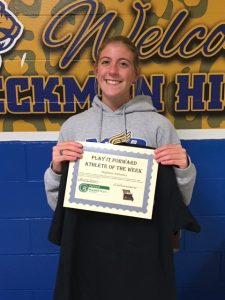 (IMPERIAL) Seckman's Stephanie Anthonies is the Class 4 District 1 cross country champion and our latest Parkland Health Mart Pharmacy Play It Forward Athlete of the Week.
Winning districts was something that had escaped Stephanie the last 3 years. She was 2nd as a freshman, 4th as a sophomore, and 3rd as a junior. So it was pretty cool for her to finally finish at the top.

Stephanie's time was 20 minutes and 17 seconds and she made that time on a muddy and puddly course at Jackson City Park. Stephanie says that she is happy to win another award.

As the Athlete of the Week, Stephanie received a t-shirt, a certificate and picked the Jefferson County Backstoppers non-profit for her charitable $25 donation through the Parkland Health Mart Pharmacy.
Stephanie Anthonies will be running in the Class 4 Sectional 1 meet this Saturday at Parkway Central High School in Chesterfield.
Full Stephanie Anthonies Interview

---