St. Pius Pitches Second Shutout This Season With 48-0 Win Over The Crystal City Hornets
October 6, 2017 11:05PM CDT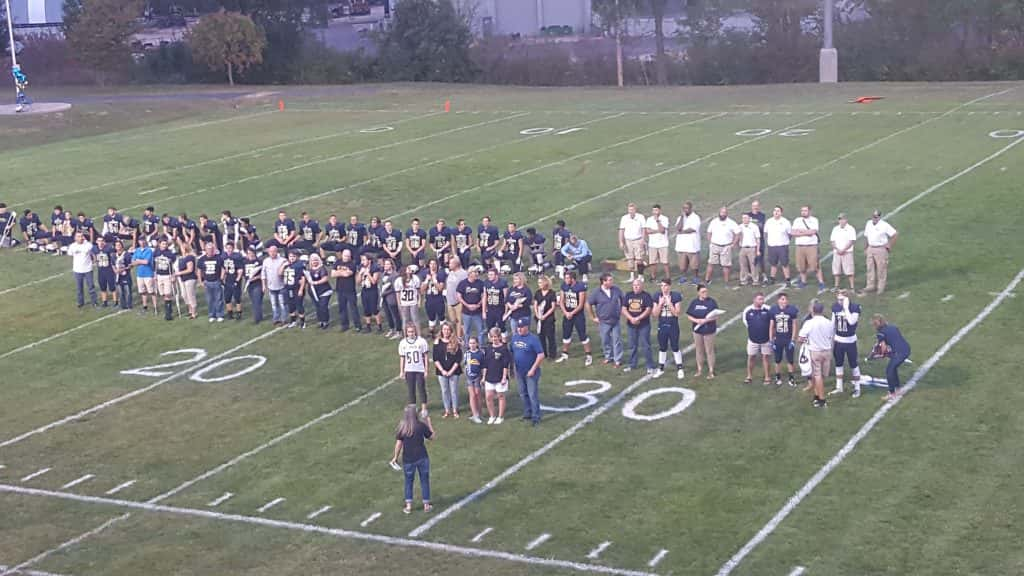 (FESTUS, Mo.,) The St. Pius Lancers kicked off Homecoming weekend in celebratory fashion as they ran away with a 48-0 over the Crystal City Hornets on Homecoming and Senior night behind a dominant defensive effort.
St. Pius is now 4-1 overall and 3-1 in conference play and they have found their rhythym over the course of the last four games picking up their third win in that span with their lone loss coming to Jefferson. It marked their fifth straight win over Crystal City (0-7, 0-4) and more importantly for the Lancers, the offense has exploded putting up 40 plus points in their past two games, both resulting in wins.+++
Head coach Jerry Woods said his defense mixed some things defensively…+++
+++
The Lancers got off to an early start in front of a packed house in the rivalry game as senior running back Seth Ervin got them on the board in the first quarter…+++
+++
Junior Dustin Burch scored another touchdown run short after on their second drive of the game…+++
+++
Burch finished with three touchdowns and 110 yards on seven carries unofficially. The Lancers would score two more touchdowns to take a 28-0 lead into halftime against the Hornets. They came out firing on all cylinders again with their biggest play of the night, once agin from Ervin…+++
+++
Ervin finished with 115 yards on four carries and two touchdowns on the night in a great effort for the senior on senior night. The Lancers would add two more scores en route to their final score victory 48-0 over the Hornets.+++
Woods added the run game has been a point of emphasis for them…+++
+++
It was a great night of festivities as they closed the game out with fireworks and a live band…+++
+++
Crystal City head coach Terry Crump was proud of the effort of quarterback Chris Eisenbeis and running back Jason Loveless among the rest of the team…+++
+++
The Hornets will look to get their first win of the 2017 season against Cleveland in their final home game of the year next Friday.+++
Meanwhile, St. Pius will close out the regular season with a tough game on the road against the third ranked Valle Catholic Warriors.
---