Jefferson R-7 Two-Sport Athlete Ashley Edmond Signs with Greenville University
April 24, 2019 7:38PM CDT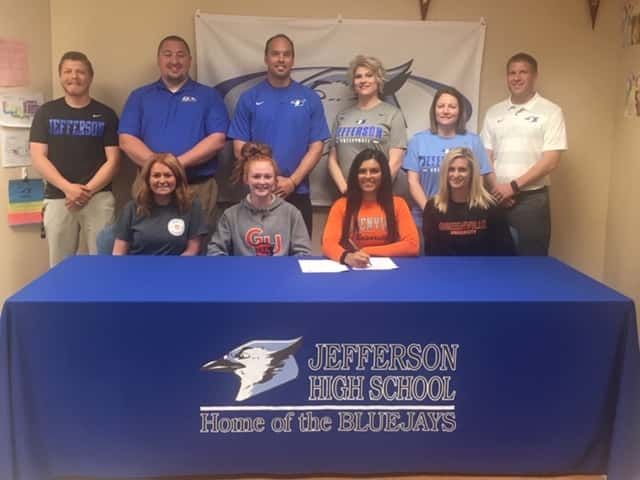 (FESTUS) Jefferson R-7 volleyball player and track and field athlete Ashley Edmond is taking her talents to Greenville, Illinois to play for the Greenville University Panthers.
Ashley takes us through the recruiting process.

Part of the attraction for Ashley to the Greenville volleyball team is how the players and coach have treated her…

In her senior year at Jefferson, Ashley and the Blue Jays collected the most wins in a single season in program history with 30, while also beating St. Pius for the first time ever, doing so in the district semifinals, all while dealing with head coach Ashleigh Nagel's heart attack before the season began and having assistant Tara Fish take over. So how has Ashley Edmond taken it all in?

This was the year it all just came together.

As for the track and field side of signing at Greenville, Ashley will be pole vaulting and potentially high jumping. Ashley finished 9th and 10th at state during her freshman and junior years, respectively. As for this season.

Regarding her education, Ashley Edmond plans to major in Business and then follow in her family's footsteps and become a make-up artist.

Greenville University is an NCAA Division III school. The Panthers are a member of the St. Louis Intercollegiate Athletic Conference.
Full Ashley Edmond Interview
---