Ste. Genevieve Secures Second Straight Class 3 District 2 Championship
October 17, 2017 11:20PM CDT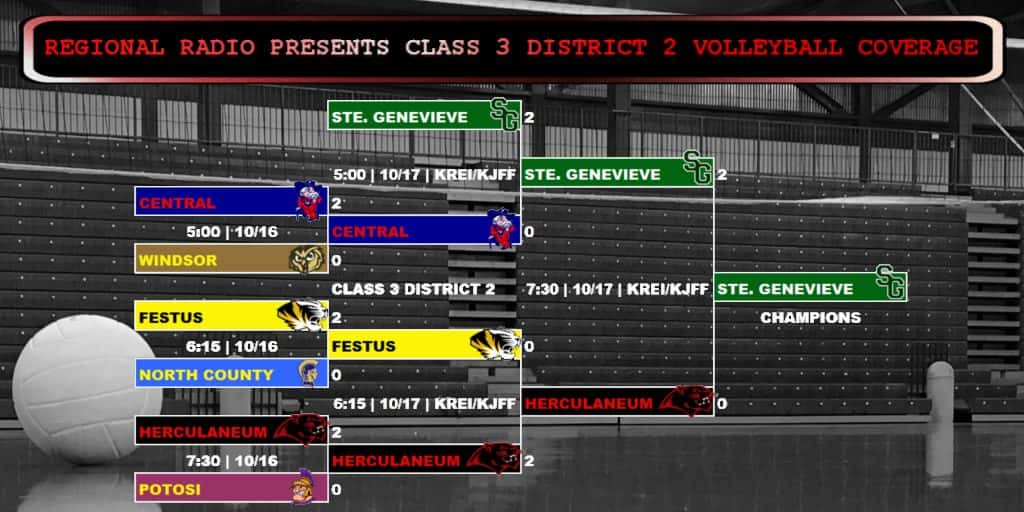 (PARK HILLS, Mo.) The Class 3 District 2 volleyball tournament semi and championship featured Festus, Herculaneum, Central, and Ste. Genevieve competed for the Championship.
Game 1 between Central and Ste. Gen was all Ste. Genevieve, as the Dragons took the match 2-0 with a dominant showing in each set. It began with the Dragons storming out to a strong start in the opening set before taking set one 25-14 and held off a strong effort from the Rebels in set 2 to win 25-18. Coach Hess enjoyed what she saw on the court from her team.
The second semi final featured Jefferson County foes Festus and Herculaneum squaring off. Festus took the regular season match in straight sets but Herculaneum came out with fire. In the second set, the Black Cats took the first lead at 24-25 and eventually came away with the victory 26-24.
Herculanuem Blackcats head coach Audrey Meda says she was delighted to see her team pull off the win against their timely rival
The championship round came down to Ste. Gen and Herculaneum. A struggle throughout in both matches but Ste. Genevieve never trailed while securing their second straight Class 3 District 2 Championship. After the game Herculaneum head coach Audrey Meda was proud of her girls.
Head coach Jessica Hess says her team's championship is a testament to how hard they worked this season.
Hear the full games below.
---