Class Two District Three Championship Volleyball Comes To KJFF Wednesday Evening
October 18, 2017 7:47AM CDT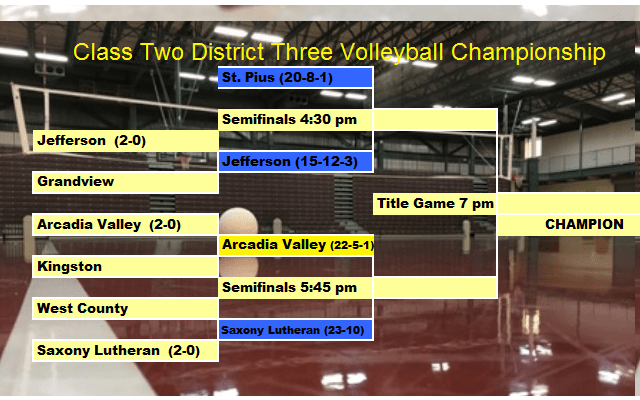 (FESTUS, Mo.,) High School district volleyball action continues on KJFF Wednesday afternoon as we bring you the Class Two District Three semifinals and championship from Jefferson High School.
The number one seeded and defending Class Two state champion St. Pius Lancers will be tested by the host school the Jefferson Blue Jays in the first semifinal of the night. Jefferson got by Grandview in straight sets on Monday's quarterfinals.+++
Blue Jays head coach Ashleigh Nagel said they are focused on themselves when taking on the defending state champions…+++
+++
Jefferson comes in at 15-12-3 on the season while the Lancers are 20-8-1 on the year and are enjoying a ten game winning streak. The Lancers are coming off of a senior night win where they honored senior setter Carley Nicholson as the all-time state leader in assists. She now has 3,497 career assists.+++
St. Pius head coach Shannon Leftridge believes her team needs to execute their game plan…+++
+++
The second semifinal match-up of the night will see the 22-5-1 Arcadia Valley Tigers take on the 23-10 Saxony Lutheran Crusaders. Arcadia Valley swept away Kingston while the Crusaders took care of West County in two sets. The match will begin following the first semifinal.+++
Following the two semifinal games will be the championship match scheduled for seven p.m., Wednesday night from Jefferson High School. Semifinal action comes your way on KJFF and online at mymoinfo.com beginning with St. Pius and Jefferson Wednesday with pregame coverage starting at 4:15 and first serve slated for 4:30.
---