Emma Shirley Represents Crystal City on Track and Field Dream Team, on to Maryville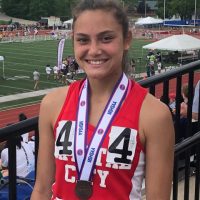 (CRYSTAL CITY) Crystal City track and field star Emma Shirley sprinted her way onto the Regional Radio Spring Dream Team in her last hoorah as a member of the Hornets.
Emma was a conference, district and sectional champion in the 100 and 200-meter dashes this year, polishing off her senior campaign with Class 1 All-State finishes in both. Emma reveals the secret to her success.

In addition to her family, friends and teammates, Emma is very thankful for the Crystal City coaching staff.

Emma will continue running at Maryville University and as that new experience gets closer to becoming a reality, she's feeling all sorts of things.

For her career at Crystal City, Emma Shirley qualified for state in the 100-meters twice, the 200-meters four times, and in the 400-meters once. She made All-State twice in the 100's and all four times in the 200's.
For the full Emma Shirley interview, click here.
---