PERRYVILLE'S NEW COACHES READY TO NAVIGATE FALL SEASON
(Perryville, MO) Change is the ever-apparent theme of the summer for Perryville Pirates athletics with new department director Justin Dryer steering the ship. With seven-year head football coach Mike Wojtczuk and nine-year volleyball coach David Mirly leaving the program, Dreyer has been tasked with finding the perfect replacements.
+++Dreyer filled the vacancy in the head football coach position by hiring Windsor Owls offensive coordinator Blane Boss back in March. Almost four months have passed with Dreyer able to establish a deeper understanding of Boss and his coaching philosophy. Dreyer addresses the similarities between him and the new head coach.

+++Dreyer ultimately believes that Boss is the right guy to turn around a program that finished 2-7 last season.

+++He believes the style of coaching of new head football coach Blane Boss and new volleyball coach Cindy Cissell, will earn the trust of their respective players.

+++The basketball program is also going through some changes at the head coaching position. Athletic Director Dreyer decided to step away from running the boys basketball team when he was hired to the A-D position. One-year-and-done girls head basketball coach Donald "DJ" Goodson decided to be closer to home as a varsity girls basketball assistant at Cape Girardeau. Dreyer has full confidence in Dustin Wengert as the new boys basketball coach and is looking forward to Angela Fulton in charge of girls basketball.

+++Uncertainty comes with the territory with the number of changes made to the Perryville Athletic Department. The tough road ahead will need to be met with patience, bravery and togetherness. Dreyer has full confidence that the new coaches will bring out the best in his student-athletes and that Perryville fall sports will be elevated to new heights.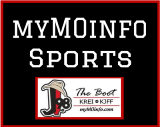 ---