St. Pius Wins The C2D3 Volleyball Tournament With Straight Set Sweep Over Saxony Lutheran
October 18, 2017 10:03PM CDT
(FESTUS, Mo.,) Another year, another district championship for the St. Pius Lancers as they take the Class Two District Three volleyball crown with a straight set win over the Saxony Lutheran Crusaders at Jefferson High School Wednesday night.
St. Pius (21-8-1) moves on to the state sectional round as they look to make a run at defending their Class Two championship. The Lancers had to get by a scrappy Jefferson Blue Jays team in the semifinals and did so in straight sets 25-14 and 25-5, before taking down Saxony Lutheran 25-14 and 25-9.+++
Despite winning the past three district championships, senior Carley Nicholson said the feeling never gets old…+++
+++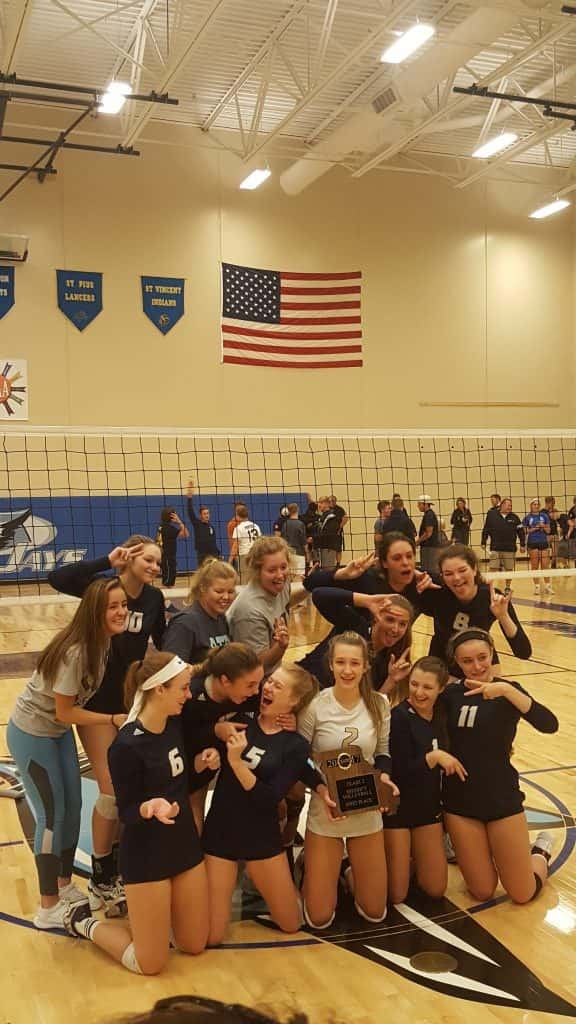 St. Pius head coach Shannon Leftridge is in her first year at the helm, and said they executed what they worked on all week in practice. She was particularly pleased with the team's blocking, led by junior Kaylee Portell…+++
+++
It marks the third district championship for St. Pius as a school this fall with the softball and girl's tennis teams capturing titles as well. The boy's soccer program is playing for the district championship on Thursday night.+++
For the Blue Jays, they end their season at 15-13-3 on the year. Head coach Ashleigh Nagel thought her team played difficult teams throughout the year and it made them stronger…+++
+++
The second semifinal had Saxony Lutheran sweeping the Arcadia Valley Tigers in the most drama filled match of the night as the Crusaders survived set one 25-23 and narrowly won set two 27-25. Arcadia Valley ends their season at 22-6-1.+++
Head coach Tara Lamb thought her team didn't come out with their best game…+++
+++
St. Pius will turn their attention next to the state sectionals and quarterfinals coming up on Saturday afternoon at Metro High School. The Lancers will take on Malden (26-7-1) in the state sectionals.
---